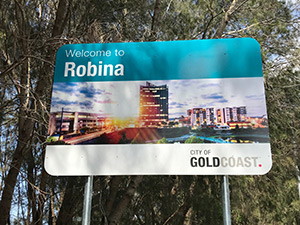 Brand new signs a welcome new sight for Robina 
By now you may have driven past our four new entry signs welcoming residents and visitors into our beautiful suburb. I love small and cheap projects like these that have big impact on community pride!
Pedestrian countdown timers on trial at Robina Town Centre
I'm pleased to announce a trial of pedestrian countdown timers at Robina as part of a Council-supported initiative. The trial will be conducted over twelve months and will be situated at the City controlled traffic signal at Robina Town Centre Drive crossing (near Australia Post).  This is all part of keeping our Robina roads safe.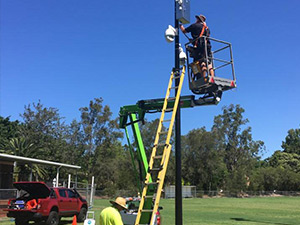 Robina Common security
I've installed CCTV at Robina Common to tackle anti-social behaviour plaguing this otherwise wonderful community facility.  The cameras went live late last month and in its first 24 hours, resulted in a Police arrest.
The high definition cameras will keep a watchful eye on the playground, public toilets, car park and Robina City Soccer clubhouse – to further deter young thugs starting fires, vandalising and breaking in. If you spot anything suspicious, please report it (anonymously) to Crime Stoppers. Let's work together to rid our community of this behaviour.
Volunteer at the Gold Coast 2018 Commonwealth Games™
The Games are almost upon us and volunteer positions are now open! Cbus Super Stadium will be home to the Rugby Sevens competition during the Commonwealth Games from 4-15 April 2018.
Why not sign up today for this once in a lifetime opportunity and help shape the Games?
For details and your eligibility, visit www.gc2018.com/volunteer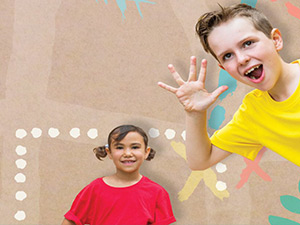 Bleach* Festival is coming to Division 11
Together with Bleach* Festival, I'm proud to present 'Varsity Daze' – an art and music event spread across three days from 31 March – 2 April.
A live Friday night soundtrack from The Ruiins, TH'FIKA and Austen, will set the scene for three giant illuminated humanoids to land on Varsity Parade.
Created by Australian visual artist Amanda Parer, these spectacular figures will challenge the notion of scale, through an enchanting installation that explores the role of human beings in our environment, titled Fantastic Planet.
At first glance, Parer's work is an unusual occurrence; however, on further inspection, audiences learn what it's like to be inferior, in the way that the environment is to them.
Visit the Bleach* Festival website for details or click attending on my Facebook event: https://www.facebook.com/events/1466196790066629/
Listening Posts
It is my job to represent your views. If you would like to chat in person (close to home), come along to one of my regular listening posts. This is a great opportunity to make suggestions about how we can make our community even better – and meet your civic-minded neighbours.
My next listening post will be at Club Robina on Thursday 16 March at 10am.
You can visit my Facebook page or contact my office for other listening post dates and street addresses.
What needs fixing?
If there is something that needs fixing in your street, I want to know.
Get in touch with me on 07 5581 7282, 0405 414 931 or email division11@goldcoast.qld.gov.au for assistance with any local issue.
Until next time,
Hermann Vorster
Councillor, Division 11, City of Gold Coast