Casual, yet delicious new food offering for The Promenade at Robina Town Centre
When one hears the words 'Greek' and 'street food' in the same sentence, thoughts usually turn to late night souvlaki, best enjoyed at around 3am from a nondescript hole-in-the-wall vendor. That's all about to change.
Brisbane foodie favourite, Zeus Street Greek has brought its food philosophy to the Gold Coast, setting up shop along The Promenade at Robina Town Centre. Just one look at Zeus' modern fit-out, combining natural timbers with glossy tiling and greenery, and it's not hard to see what makes this souvlaki shop one to remember.
Our tip: sit down at one of the large alfresco tables – not only will you be treated to a great view of the lake, but you'll also need all the room you can get. With an extensive menu of pitas, sides and sweets, it's impossible to narrow your choices to just one dish.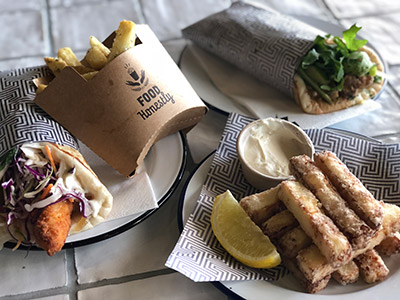 We opted to try two of Zeus' specialty pitas (aka gyro/souvlaki/kebab) – the chili pork and Aegean (chicken) schnitzel – along with chips and haloumi. Orders are taken at the shop counter and delivered to your table by friendly staff members, who remain attentive throughout the meal.
Robina Zeus Manager, David Garcia, tells us this strong focus on service keeps people coming back for more. "We're already seeing regular customers returning to the store – and we've only been open a month," says David proudly.
"We are big believers in providing good customer service. Our staff are trained to communicate well with customers, making sure they are enjoying their food or if they need further assistance," he says.
David's other passion is food quality. "We have such a strong emphasis on the quality of the food we are serving to customers. It has to be good."
It shows. Our meals arrive and the lightly fried haloumi is more-ish, well complemented by a smoky yoghurt dip and wedge of lemon. The pitas are fluffy, the meats are tender and tasty and the salads are fresh and zesty. It's in perfect keeping with the Zeus Street Greek mantra of providing healthy, flavoursome meals with only the best produce.
David says it comes down to exceeding customer expectations. "We are offering something different, that our customers are not getting anywhere else.
"They're used to the classic, smaller shop, offering kebabs that might be made very quickly – but not of the best quality.
"We deliver food quickly, but it's really high quality and our customers are impressed – they love it!"
For dessert we opt for traditional with a twist and order Greek doughnuts drizzled with Nutella and walnuts (instead of the usual honey and cinnamon). These golden and crispy bites of perfection arrive still warm, and are a satisfying way to end the meal.
It would be hard to step a foot wrong when dining at Zeus. The menu is flexible, with the ability to 'build your own feast' from the different elements on offer. The pitas can be made gluten-free and there are vegetarian options and meals to please the kiddies.
David tells me they'll be offering meals via Deliveroo soon – great news for locals not wanting to brave Winter to find a feed.
Find Out More
Visit Zeus at The Promenade, Robina Town Centre, next to Salsa's and Grill'd.
Zeus Street Greek is open 11.30am to 10.30pm most days.
You can even try one of their pitas for FREE this weekend! To celebrate their opening, Zeus is teaming up with Oz Harvest, giving away free pitas (and also donating $2 for each one) from 12pm-3pm on August 4.
Visit the Zeus website or find them on Facebook to find out more!
https://zeusstreetgreek.com.au
(07) 3102 7112
Read our recent insideR article on the other exciting new offerings at The Promenade, including Ciao Ciao and Lord of the Wings, and don't forget to subscribe to insideR to stay in the loop on everything Robina.