Do yourself a flavour and seek out this sleek, new Robina dining hotspot
It's not on the beach.  It's not in a bustling tourist strip or shopping centre.  There's no big flashy sign on a busy road… it's so not Very GC.
And we think it's simply perfect.
The quaint, hidden nature of Robina's newest culinary offering is reminiscent of the funky little Tokyo izakaya only the locals know how to find.  Set between Ron Penhaligon Way and Commerce Drive (next to Bunnath Kitchen, which we recently reviewed), you'll find Eddy + Wolff (entry off Commerce Drive).
Step inside and the atmosphere envelopes you – from the feature pink neon sign and impeccable, central bar to the open kitchen, from which mouth-watering aromas escape to fill the cosy 22-seat space.  The contemporary Asian vibe here is on point.
(Keep reading to find out how you can win a $100 voucher for Eddy + Wolff).
The Eats
The menu is such a treat the only problem you'll have is option anxiety.  Our number 1 recommendation is to take a crew and try a few things!  Choose from traditional Asian barbecue bar bites, snacks to share and bigger meal options.  An eclectic melting pot of authentic Vietnamese, Japanese, Thai, Korean and Chinese will have your mouth watering … there's truly so many delicious options, but here's what we tried (there will definitely be a return on the cards!):
The Crying Tiger Beef was both a flavour and visual sensation and self-proclaimed favourite of proprietor Thao.  Stacked high with fresh chilli, coriander and Vietnamese mint these tender cuts of perfectly seared beef are accompanied by a zesty dipping sauce and sprinkled with baked rice for crunch. If the name scares you, don't worry, it's not too hot to handle, the heat comes from fresh chillies so you can add as many or as little as you like to each mouthful to suit your tolerance.
Scallop Ceviche, fresh raw fish marinated with fresh seasoning is one of life's great pleasures.  The scallops were nothing short of amazing. The softest, melt in your mouth morsels coated in a lime juice, lemon grass and chilli dressing with a masterstroke of uber-fresh lychees. A dish you could enjoy for lunch every day.
Fermented vegetables are so hot right now. Good for your gut and tangy, they're a great accompaniment to any savory dish, but KimChi would have to be one of the star performers of the fermented food world. Not just a fad or fashion, KimChi is a traditional Korean dish with hundreds of variations and recipes passed down through generations. Eddy + Wolff's version of this classic is an absolute banger. Using a range of vegetables including cabbage, Asian greens and carrot along with perfectly balanced chilli sauce coating, this can be added as a side to anything else you fancy on the menu.
The Spicy Beef Bulgogi, Laughing Cow Cheese, Kimchi, Japanese Milk Jaffle is not something you come across every day! And trust us, you simply need to try one (perhaps to share).  A twist on the Australian toasty favourite, this filling  spicy pocket is full of tasty Asian beef goodness and melty gooey cheese – what's not to love?
The most instaperfect, colourful taste sensation that ever was, has surely got to be the Grilled Thai Barramundi, Toast Bread, Yarra Valley Caviar, Asian Herbs.  Check out the vibrancy of the caviar in the picture on this post – it's no wonder this dish is a crowd favourite at Eddy + Wolff.
Moving over from its instafamous cousin, the understated Char Siu (Chinese Barbecue Pork) doesn't need fancy garnishes.  This dish is literally slivers of melt-in-your-mouth, moreish, meaty morsels. Let's just say you will probably be fighting over that last sweet, smoky slice.
Wok Tossed King Oyster Mushroom, Bok Choy, Young Baby Corn jumped off the menu at our veggie-loving insideR foodie.  She definitely wasn't disappointed, munching every last bite of this saucy-fresh goodness.  You'll see that not only was it healthy and delicious but, like everything else, so beautifully presented (first blog image).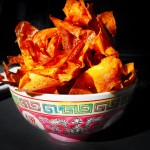 annnnndddd… the Sweet Potato Crisps … I mean sure, you don't **need** these, with all that other culinary goodness, but … well no, actually you do.  Just look at them! BUY THE CRISPS and worry about paying for these light, crunchy, salty and flavourful nibbles at the gym tomorrow.
Now to be fair, with all of the yumminess on offer, dessert may have been a bit much for a workday lunch date.  But whatever, it was our job, nay our DUTY to report on the whole Eddy + Wolff experience, so the Waffle Fried Ice Cream definitely had to be had. Super filling, again a shared plate is definitely sufficient, but this was probably the yummiest fried ice cream any of us have had – with a crispy wafer style coating complementing the delicious creamy cold goodness inside.
The Drinks
Although there is an enviable wine list and extensive Japanese whiskey and sake selections, cocktails were just what the Robina doctor ordered for this sneaky lunchtime work getaway.  A short list to choose from, the options all looked (and tasted) fab!  Our choices were:
Peace to the East which was Gekkeikan sake, Aperol, basil and lime with home made ginger beer.
Romeo & Jinzuette with Jinzu gin, Maraschino liqueur, Yuzu and lime juice garnished with fresh cucumber.
We also had a sneaky try of the oh so delicious and exclusive Lychee Gold Cider, which is just 1.15% alc, so perfect for a sensible back-to-work trip.
Find out More
Visit https://eddyandwolff.com.au to read more about the amazing owners and to check out the menu.
Don't forget to book, because this contemporary restaurant is a cosy intimate venue, seating just 22 across two tables and two bars.  And that's just one of the reasons we think you'll love Eddy + Wolff.
WIN
the insideR team loved their dining experience here so much we want you to try it too!  Find out how you can win a $100 voucher here.