Connected for success.
Robina's future-smart, premium business address has arrived. Commercial grade fibre internet is connected to The PC with 100mbs upload/download speeds. Enjoy unlimited bandwidth with no usage cap and turnkey connection, ready to go – no contract required with an external provider.
ACCESS AND AMENITY ARE FOREMOST AT THE PC ROBINA
Located next to Robina Town Centre, The PC is at the heart of a walkable CBD, with high calibre business neighbours, a multitude of services, amenities and transport options.
A NEW, CENTRAL-CITY DESTINATION FOR BUSINESS
Robina Group has completely modernised this corporate offering, reflecting an ongoing commitment to evolve and innovate, in synergy with Robina's masterplan fulfilment and the changing needs of Gold Coast business.
The PC Robina delivers an exceptional standard of accommodation underpinned by amenity and connectivity. A commercial property which will respond to the needs of a contemporary workforce, delivering a flexible and future-smart workplace offering.
This is a unique opportunity to base your professional office, medical or education business in a sought-after and vibrant CBD.
CBDROBINA DELIVERS THE MOMENTUM OF
AN ENTREPRENEURIAL, GOVERNMENT-BACKED
REGIONAL HUB
CBDRobina, at the geographic centre of the city, has become Gold Coast City's place to be for business, with a diverse workforce and customer base. A thriving location where you can easily mix with a network of local, regional and international blue-chip businesses and government departments in a destination designed for growth and access.
CBDRobina is a vision realised. Built from the ground up as a masterplanned benchmark CBD and government designated Principal Activity Centre, CBDRobina is unrivalled in Gold Coast City, drawing on a catchment almost half a million people within 30 minutes drive and over 2 million people within an hour's drive.
Major public infrastructure offers the region's best access and connectivity creating a sought after business hub with an enviable low office vacancy rate.
FUTURE-SMART COMMERCIAL REAL ESTATE FOR LEASE
CUSTOMISABLE TO YOUR WORKPLACE VISION
Designed to suit a range of professional uses with business-smart flexibility and a modern work style in mind. The reinvigorated, human-focused qualities of The PC Robina will provide a platform for the long-term success of its tenants.
Amenity is foremost, and staff and visitors alike will enjoy picturesque surroundings, recreational offerings and ease of access at this advanced urban workspace.
Striking three level curvilinear form
Extensive signage opportunities (including signage rights)
High-speed fibre optic internet supplied at competitive rates
Range of flexible business spaces available to lease including full floors
Lift and stair access
Washrooms & disabled amenities on each floor
End of trip facilities including bike racks & shower
Modern, spacious foyer to each floor
High quality commercial-grade carpets
Secure basement carparking and ample visitor carparking bays
Contemporary light-filled spaces
Airconditioned, with openable windows and balconies to some spaces
External sun shades and tinted windows
WELL-CONNECTED FOR YOUR BUSINESS SUCCESS
The PC Robina is in good company with high-calibre neighbours. A premier location provides a multitude of services, amenities and transport options.
Picturesque waterside walkways connect the urban precinct, putting this dynamic corporate offering within walking distance of:
Robina Town Centre, a super regional shopping destination which also offers significant business conveniences including a post office, banks and a selection of restaurant and cafes
A designated Queensland Health medical hub with both public and private hospitals and Queensland Health's Robina Health Precinct
A major transport hub with train/bus interchange providing direct connection to Brisbane's CBD and airports
Close by (1 km), the Pacific Motorway provides a direct link to Brisbane CBD (50 minutes) and Gold Coast Airport (15 minutes).
REQUEST A BROCHURE INCLUDING PLANS, PRICING AND AVAILABILITY OF OFFICES FOR LEASE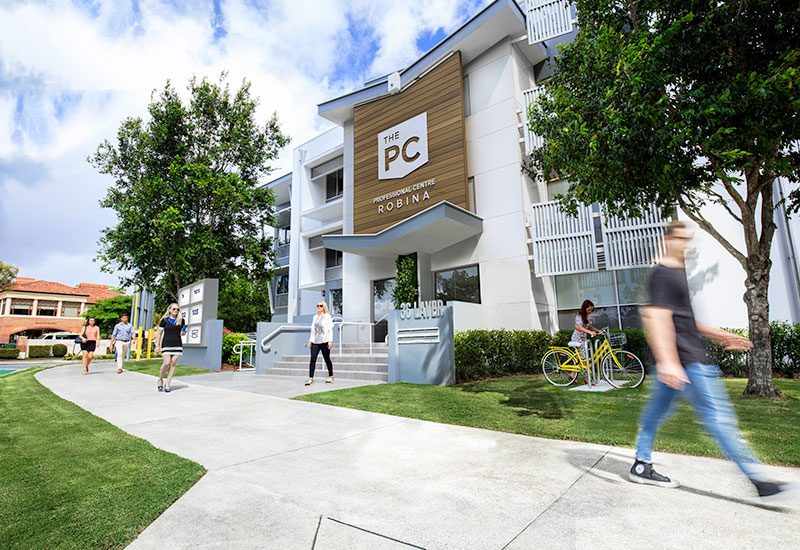 36 Laver Drive, Robina QLD 4226