Robina's Free Kids Indoor Play Park
Whether you have kids or not, you may have noticed the new Woodland Play Park which popped up near The Kitchens end of Robina Town Centre last year.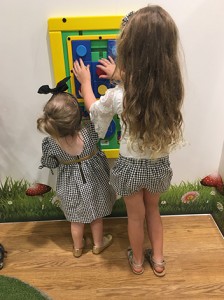 You know the place?  That magical window with furry bunnies, reindeer, foxes and little mushroom seats that seriously cutes up the short walk between The Kitchens and the Myer entry.
This free indoor play space is perfect for the smalls to burn off that 'shopping centre energy' which seemingly comes from nowhere when they are in the vicinity of ice-cream and shiny objects.
While the children explore this enchanted realm – which features a teeny grocery store complete with wooden trolleys – parents can relax and recharge with a cuppa from Crema Espresso (not to mention free Wi-Fi).  In fact, although we can't make any promises, you may even get to finish a coffee …. (gasp) while it's hot!
Green foliage, wooden bridges and pebbled paths wind throughout pre-schooler friendly activities, games, a little slide and ride-on ladybugs.
Fairy Ani Sprinkles Magic with Free Kids Entertainment
Entertaining the little ones can often get a bit same-samey; on the other hand, it can be quite expensive to try new and engaging things all the time.
As fun as the Woodland Play Park is during Robina Town Centre's normal shopping hours, the best time to visit with your pre-schooler is definitely 9.30am on a Wednesday.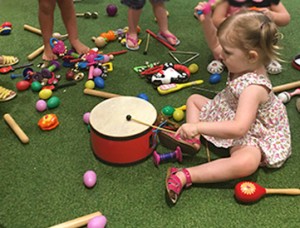 Each Wednesday morning, the fantasy realm is blessed with the presence of a beautiful, magical fairy – Fairy Ani from Kreative Kids.
Fairy Ani engages the little ones with songs, bubbles and dancing with rainbow ribbons.  She is very approachable and the little people from babies up to school age kids love her.
Each week is different – one week we had dancing with pom poms and parachutes, the next was musical instruments, puppets and a story – the variety definitely keeps the miniature fairies wanting to come back each week.
So, grab a coffee and a treat, pull up a mushroom cushion and enjoy watching those happy little faces while you finish that hot cuppa!
Robina Town Centre Woodland Play Park: Find Out More
Visit https://www.robinatowncentre.com.au/articles/the-woodland-play-park
Kreative Kids website and social media links are coming soon.
https://www.robinatowncentre.com.au/articles/the-woodland-play-parkSave
Save
Save